Discussion Starter
·
#1
·
Friday evening 4 guys and I headed up to a little motel behind Bimbos on Side lake. Side lake is about 15 miles north of Hibbing on hwy 5. We didn't do any riding Friday.
Saturday we were up and going a little after 8. It was a little chilly and the sleds smoked a bit on startup!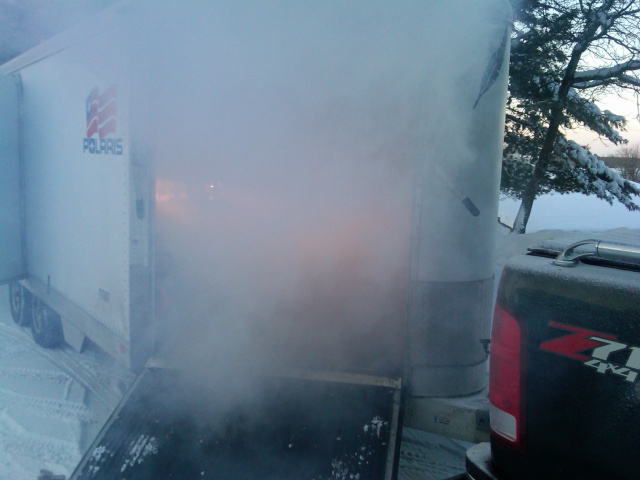 Ready to go!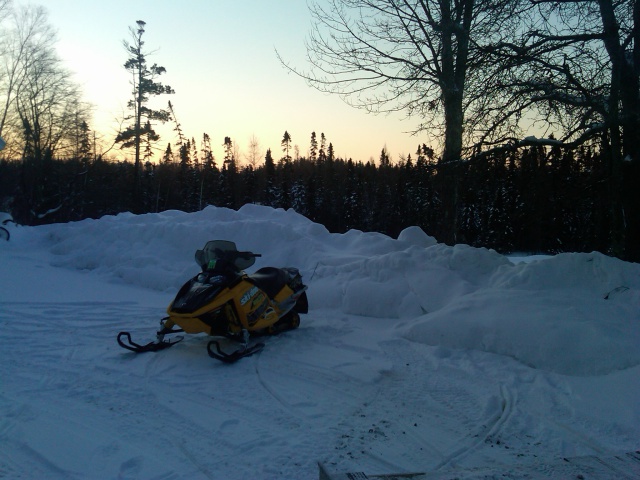 We gased up and headed out the taconite heading east. We were within the first 5 or 6 sleds down since the groomer had been through the night before. This was great except it was cold and the snow was pretty hard. The hyfax took a bit of a hit!
Guy laying down in the pic is adjusting his scratchers.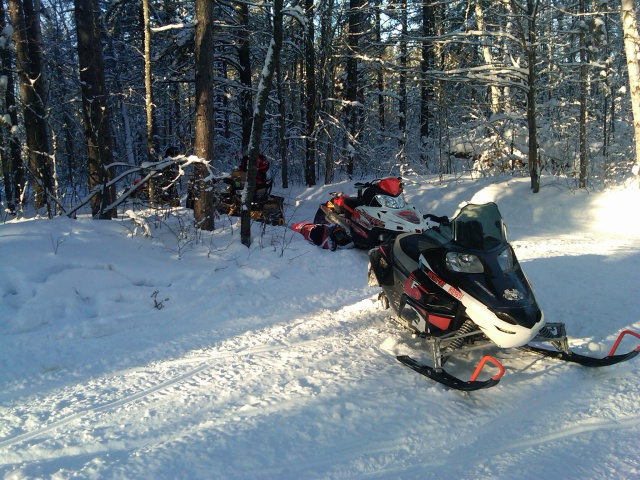 We made it to tower and had some good food and service at Benchwarmers: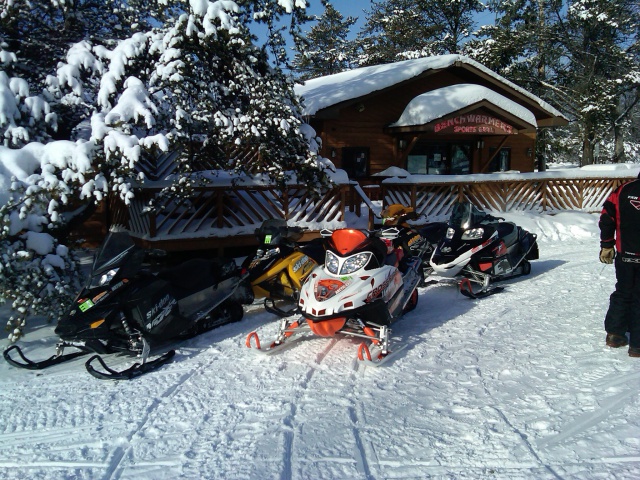 The Renegade had a little ignition trouble so we had to head back. For some reason the sled wouldn't start when it was warm. We are thinking it is the ignition coil. Once the sled cools it fires right up. Anyway since we know it will run fine as long as we keep it running we pick the long way back. We headed out across a southern bay on vermillion and intersected the arrowhead trail. This trail was awesome. Smooth, wide, and pretty fast. Good thing we didn't go too fast as there was a DNR radaring us at the end of one of the long straights.
We then road through cook and onto the bearskin trail. Somewhere along the line the trail crossed a road and the ditch looked fun. Two of the guys had a little too much fun and got stuck!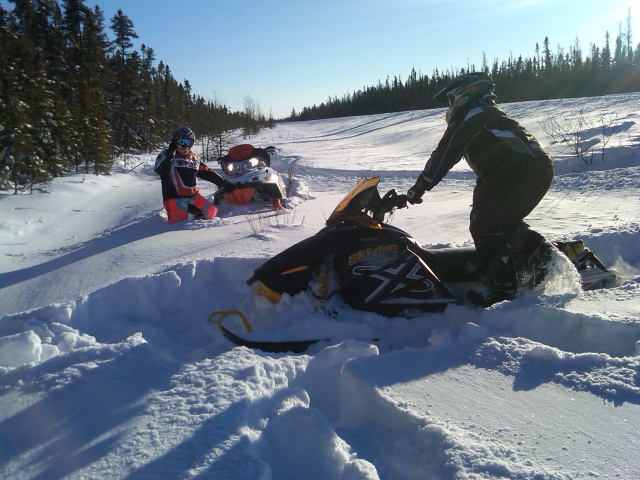 That trail brought us back to the taconite which we took back to Side lake and home. Total miles was about 125 for the day. Given the conditions we probably would have went for 200 miles if one of the sleds wasn't having trouble.
Sunday we headed out for the 60 mile loop that intersects the taconite by side lake. But first we had to get the sleds started! It was -19 F at about 8:30am. Here is how the sleds did:
08 doo 800. electric start - battery too old and weak. Hand started this one. extremly stiff. One guy could get it started though.
05 doo 800. couldn't pull it good enough with one person. with two guys it took full choke and about 7-8 pulls and it fired up.
07 doo sdi - mine. two stiff pulls by one guy. Ran for a second then died. another pull and it was good to go.
06? cat 1000 crossfire efi - one guy no chance to pull this thing over. two guys and about 10 pulls it was firing. a couple more pulls and it stayed running.
We headed south out of Side lake and the groomer had just went down. It was smooth. The groomer must have turned around because we met him going out. Trail was pretty narrow. 2 of the guys got stuck giving the groomer room: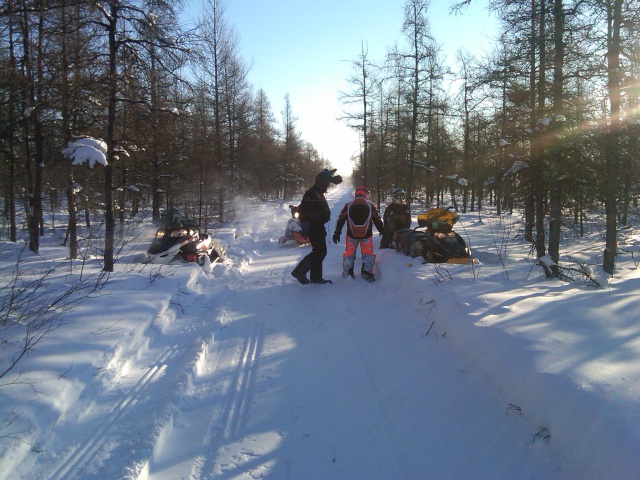 The temps came up pretty quick and the sun was shining. We were a little gun shy since it was so cold in the AM but it turned out to be a fantastic day.
We found an awesome power line to play in. Might even be the LTV line.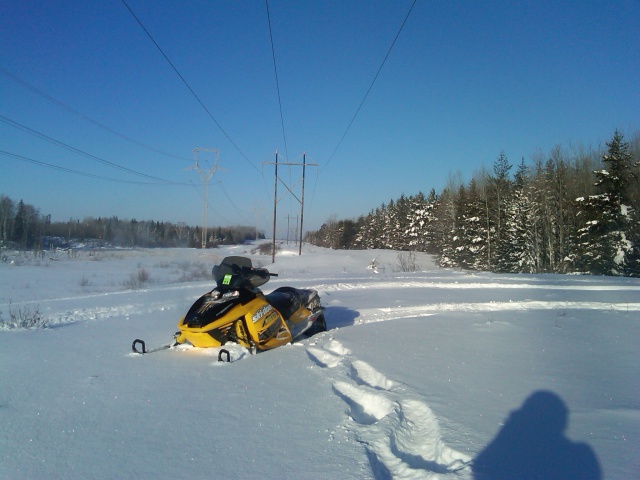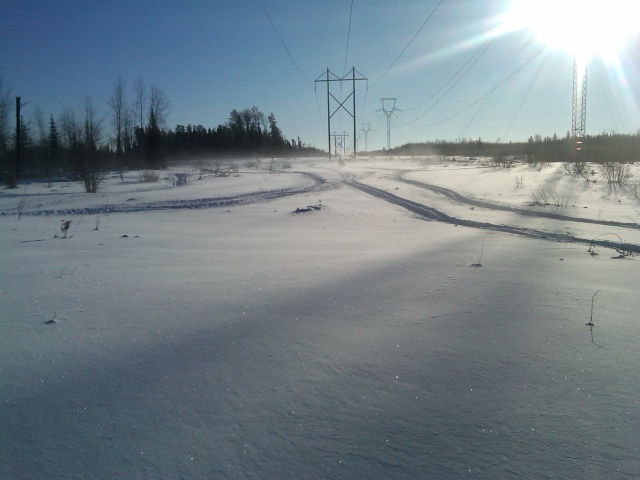 As always I try to do a little too much fancy carving and get my a$$ ejected right off the sled. Landing is soft, pow is deep!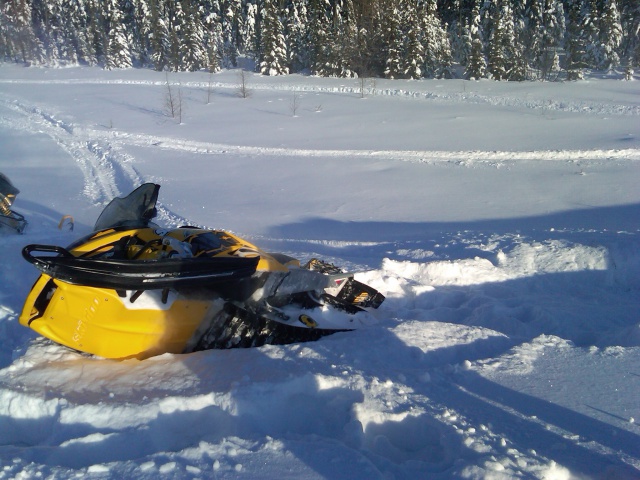 The taconite back was really smooth and wide in some places. Decievingly fast and smooth. One of the guys ended up off the trail. I still don't quite know how he accomplished this. Look at how smooth and wide the trail is!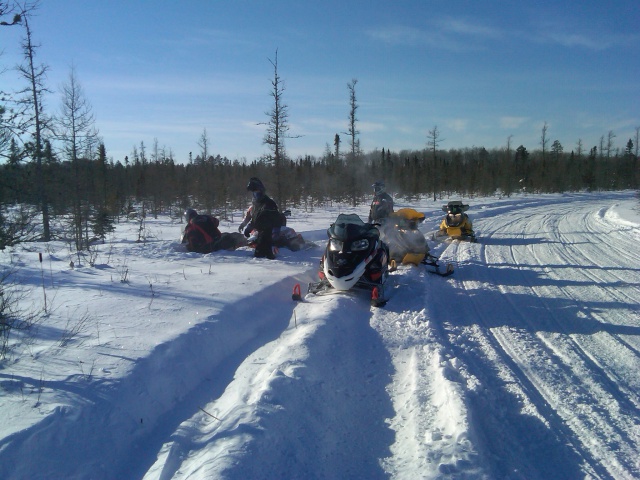 Just for good measure the crossfire parks next to him and is stuck.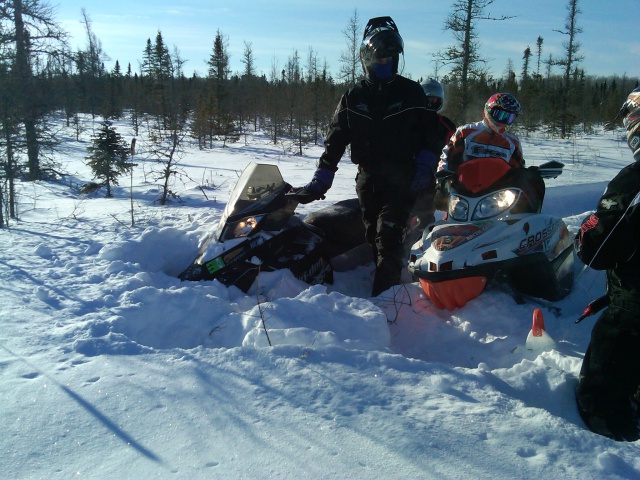 One final power line section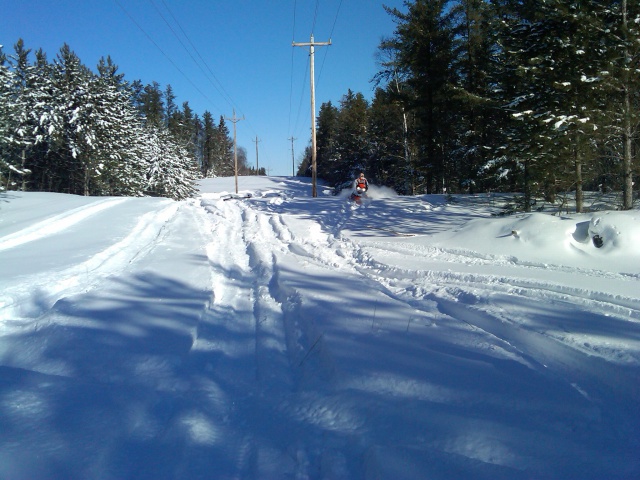 Total miles sunday: 62 I think it was.