Discussion Starter
•
#1
•
Well, was racing a buddy across a lake for a good 1/8th mile. Then right after, I backed off to 3/4 throttle for about 8 sec with one or two quick wot brap squeezes, then pinned it again for 8-10 then burped it a few times and on and off 5/8-3/4 for another 1/8mi and then right back in it again at full trottlle for 8-10 sec and then... Bawwwwwwwww.
Get to the point...
In all my 20 years I never seized or popped a piston with above "abuse". So this is quite the accomplishment :icon_smilie_1_lol: This very motor was the first sled I had as my own from the age of 12 to 15. However, previous to that, my dad had burned it down years ago. Infact crank has been rebuilt once and possibly 2 top ends.. Anyway. Immediately I was looking for something mechanical to point the finger at like the center hole/flange of the airbox slid over the bell of the carb, or a cracked boot, water in fuel, plugged main, etc. Unfortunately I have found NOTHING [other then operator error]. Only thing I can think of is it was to cold [5 above] to safely run 91 ethanol.
After posting on Vintage sleds a user [moderator] by the name of Ahood mentioned 650's have terrible heads with the piston too far in the hole and too thick of a head gasket to have any effective squish. Looking in the cylinder with the head still attached, I can see what looks like either a limp attempt at a quench pad or an unwanted "chamber ring" as a result of 1mm over bore. My question is, what magic can I do to this thing to promote flame propagation and help keep detonation at bay? Would shaving the heads .030-.050 to get rid of the ring of death and raising the cylinders .20-.030 [negatively effect port timing?] help matters any? I cant see putting the piston further in the hole and changing retarding port timing helping any... Idk, at the very least would beveling the ring just to the edge of the cylinder and running a thinner head gasket be worth a try? These are all just crazy theories backed with little to no 2 stroke fundamentals. I would never take it upon myself to just start changing stuff without credible persuasion.
At the very least I am going to richen the mains and possibly drop a clip on the needles. I do know enough to read plug color/wash. judging by the skirts I dont think it was running terribly lean, but lean enough to detonate. Cylinders are ok, I'm just gonna lightly hone them. My only purchasing dilemma is gasket kit. Do I want the "hi compression" .043 or .059.
Any and all help is much obliged.
Thank you!
The carnage...
PTO/CTR/MAG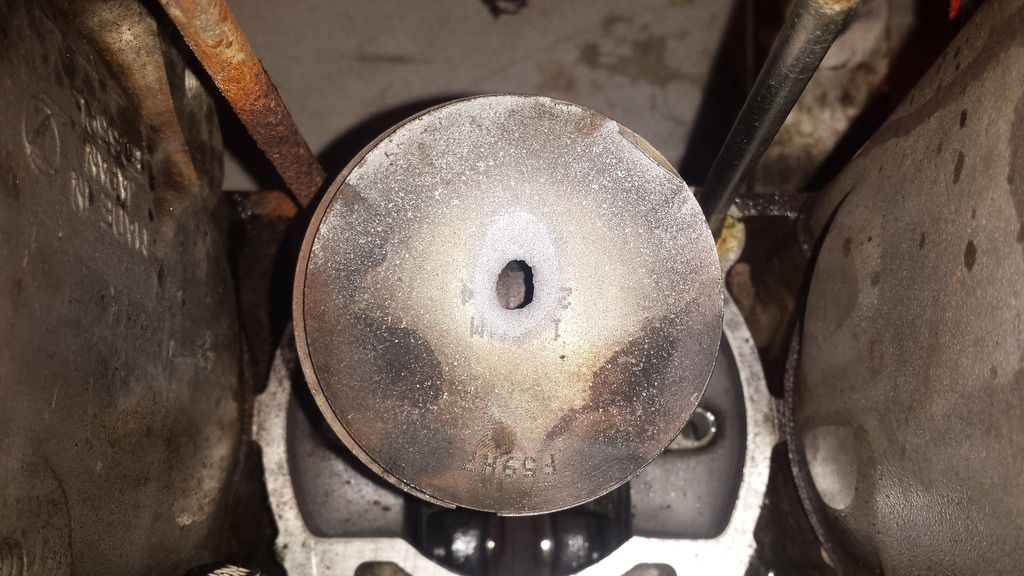 Center piston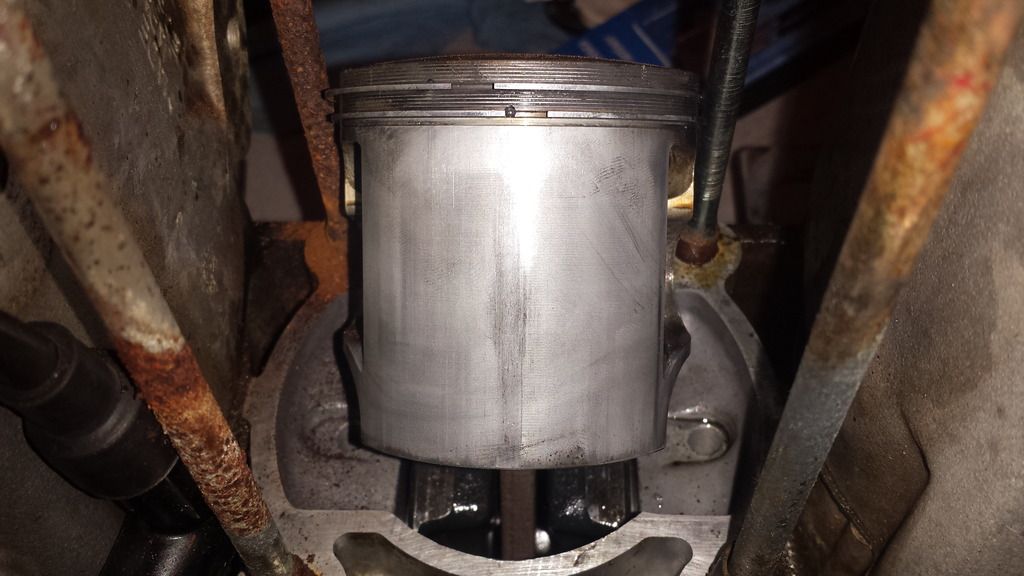 Center piston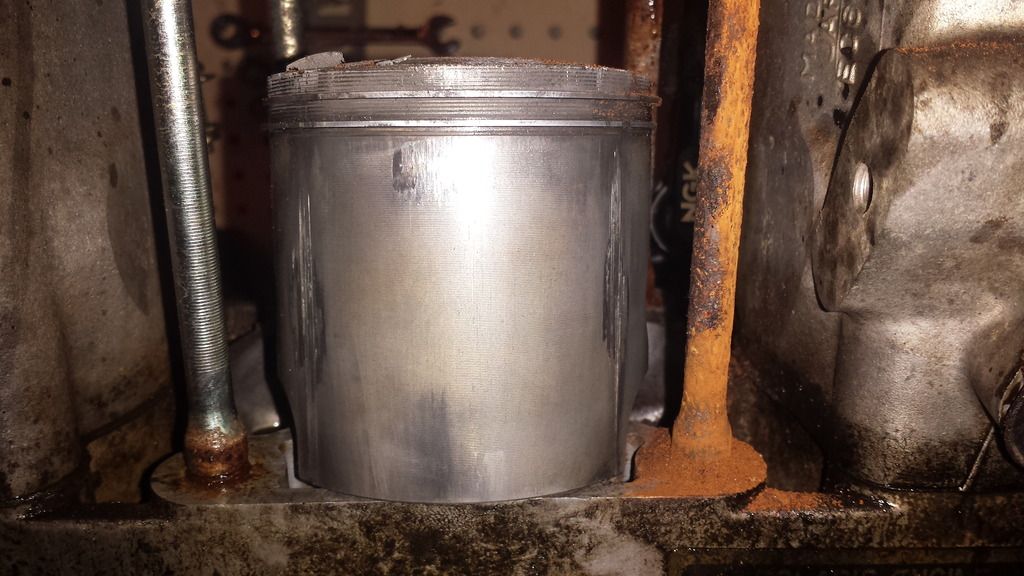 Center piston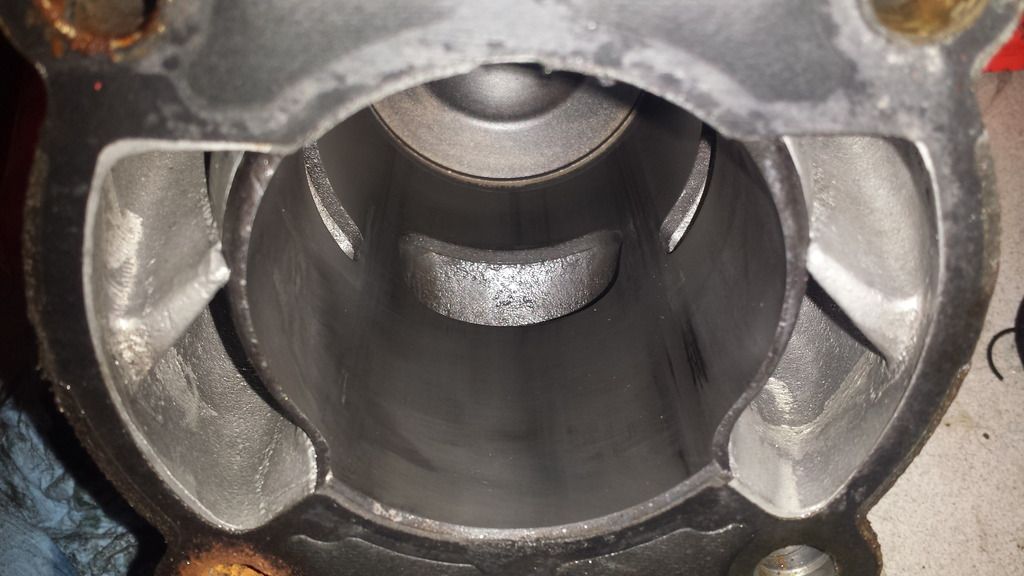 Center cylinder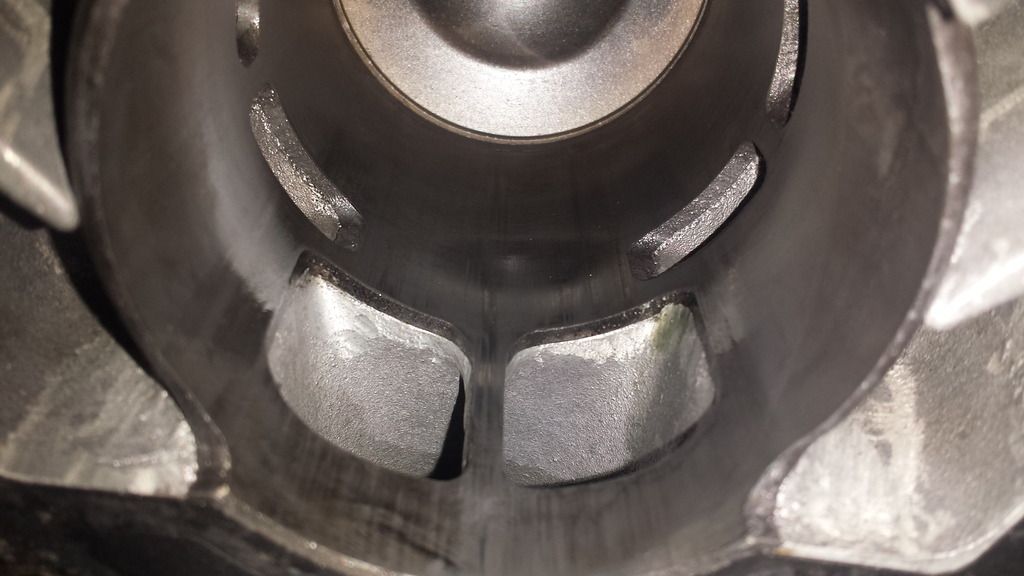 Center cylinder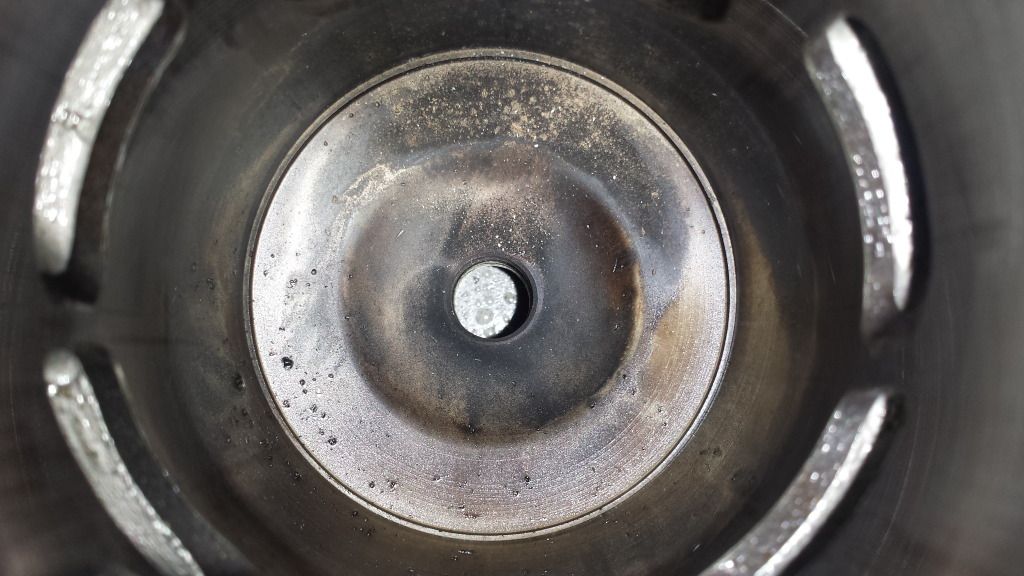 Center head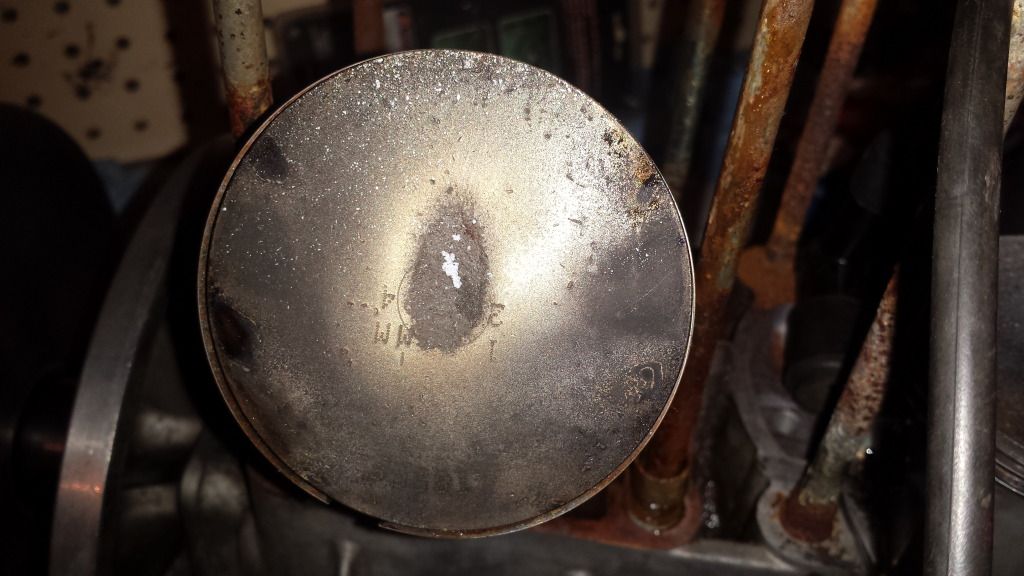 PTO piston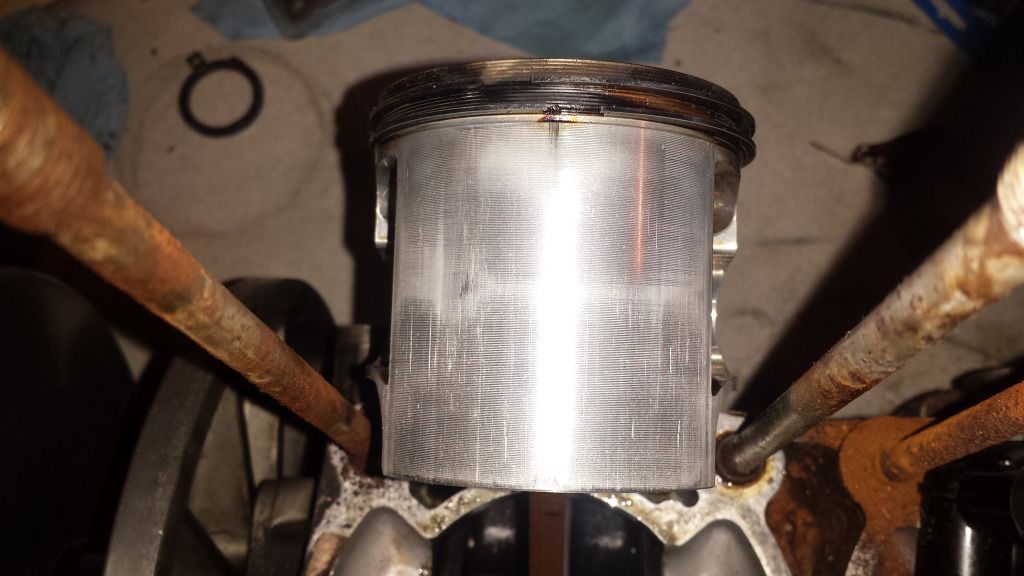 PTO piston
PTO piston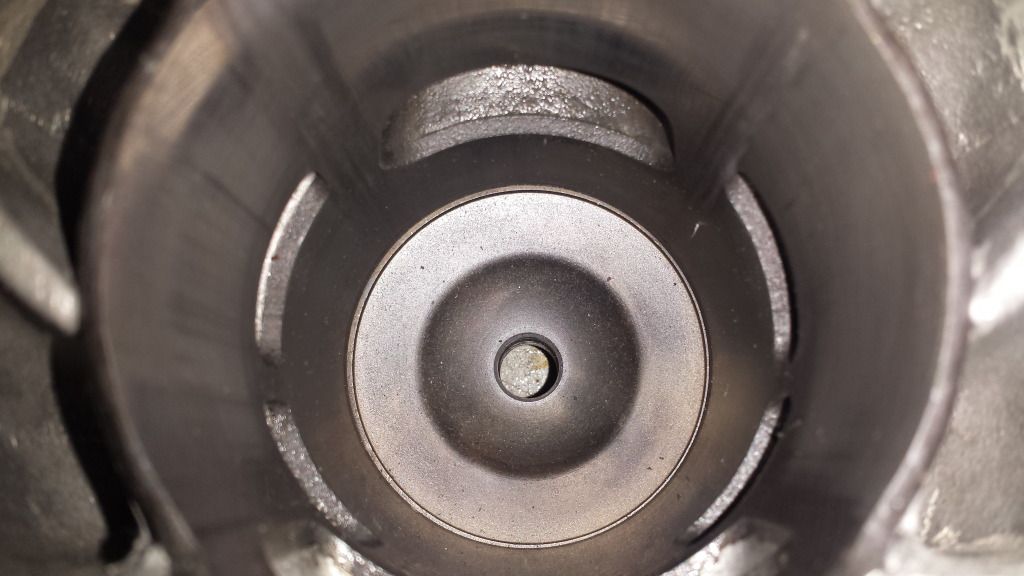 PTO head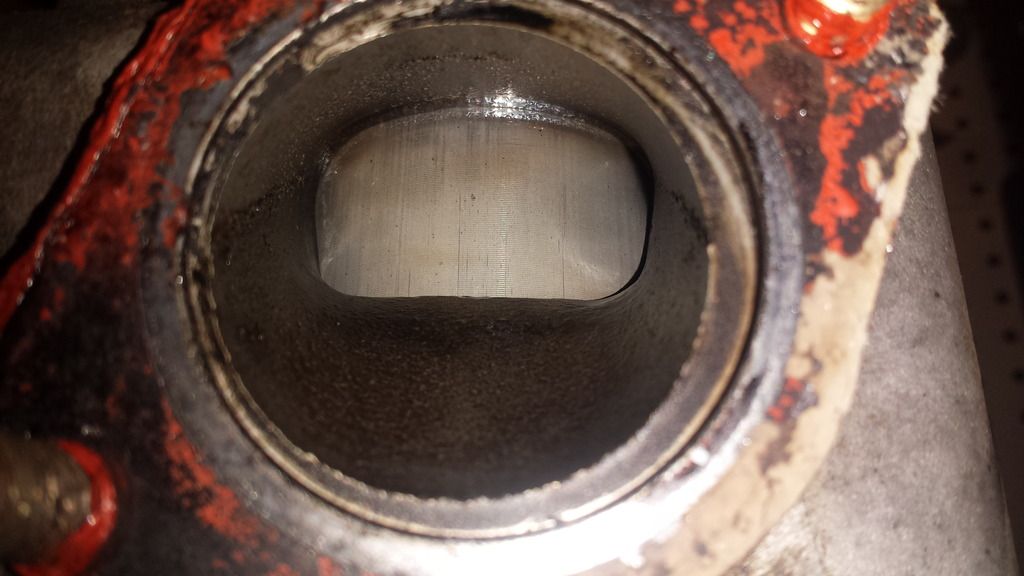 MAG [gonna leave as is]
MAG