Discussion Starter
·
#1
·
On Saturday a group of us went for a snowmobile ride.
The morning started out by letting the dog out of the house. She slipped and fell down the stairs that were glare ice from the rain that had come overnight. Since the roads were ice-covered, too, we decided to take gravel roads to the interstate. Well, gravel roads and wimpy trailer tires don't get along too well, so after changing a flat one, we stopped in Fargo to buy another spare, just in case. It rained all the way to Detroit Lakes, and was raining when we unloaded the snowmobiles. It wasn't exactly ideal snowmobiling weather.
We met my brother and two friends at Okeson's Offtrail Sales, which served as our trailhead. The five of us agreed that, yes, we were going to ride in the rain. But, hopefully we would ride out of it, going north.
We rode across a couple lakes and hit the 300 Trail north to Tulaby Lake. The trail had been recently groomed, and had seen very little traffic. After crossing the lake, we were in the White Earth State Forest, where the trails were equally as good.
About 30 miles into our ride, my brother's '95 XLT Special turned over 10,000 miles.
We rode up to Pinehurst Resort, where they were holding snowmobile drag races. It was a zoo, and there was a lot of bare pavement, so we headed down the trail, winding up at the Height of Land fire tower.
This was a re-visit for my wife and I, but the others had never been there before. The Cat rider decided that he needed to climb the tower, which required skinnying up the structure to the ladder, which starts about 15 feet off the ground.
Then, we made our way to Hoot Owl Resort for lunch. It was still raining, but we hung our clothes out inside the lodge while we ate.
From Hoot Owl, my memory gets a little foggy, because we took a few wrong turns, and backtracked a little bit. But, we eventually found our way to the Elbow Lake Store for fuel. It was still raining, so we decided to go in to dry out and have a Coke.
Rain on our snowmobiles:
And rain dripping off the roof:
As we were about to leave the Elbow Lake Store, I was studying the trail map when a guy walked in and said something like, "Don't trust that map. You can't get there from here." Without looking up, I recognized the voice, and when I saw his face, it confirmed that I had met this stranger before. A few years ago, on the same weekend, my wife and I ran across some people that happened to be going the same direction we were. Only, we ended up getting lost and this guy, Jim, ran out of gas. We siphoned from my wife's snowmobile and had lunch with them at the same Elbow Lake Store. We had a good quick chat, and he remembered my wife's old Indy 440.
Our next destination was Two Inlets, where there is a combination general store/gas station/bar. We got to the store there about dusk, which was premature, due to the clouds and rain. The locals at the store couldn't believe it when we said the trails have been simply awesome. There had been almost no traffic on the freshly groomed trails. They all had a chuckle at our wet butts.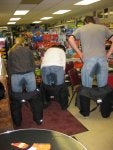 We spun through the trails of the Two Inlets State Forest and then back east to Ice Cracking Lodge for supper. If you're wondering, it was still raining. We ordered and received our food without a problem. Thunder Burger was the meal of choice. But, during our meal, the power went out inside the restaurant. The emergency lights came on.
But, no worries. The slot machines still work when the power goes out.
And we had our burger baskets by candlelight.
We made our way back to, and across, Little Bemidji Lake. Then back down the 300 Trail, across the lakes that began our day, and back to the trailers. We ended up with 200 miles for the day.
On our way home, our 1998 Chevrolet K1500 pickup turned over 300,000 miles.
Overall, it was the most fun I've ever had snowmobiling in the rain.