Discussion Starter
·
#1
·
Man I havnt had a sled this old sence I was like 12!
oh well its still pretty sweet.
1997 sks bulkhead and tunnel
1999 rmk rear skid (97's seemed to fade the front shock for some reasen?)
Fox shocks with titanium springs up front, was told they were off a pro x when I bought them (was beleavable, had two prox's in peaces where I got em')
136/1.25 with woodys studs
1998 xc 700 engine with the 220 cylinders, running the 97 CDI. clutched/jetted otherwise stock.
1999+ body style.
risers and all that good fun stuff. I have SLP ultra lights on it right now but I think Im going to put my sidehillers back on.
still need to pull the engine and replace part #13. that should be fun...
http://partsfinder.onlinemicrofiche.com/HatcherPassPolaris/Polaris_OEM/PolarisSnow.asp?Type=13&A=289&B=19
and I need to figure out a way to put the plastic peace the will fill in the hole under the cowling so that snow wont get on my clutchs.
anyways, heres the pics.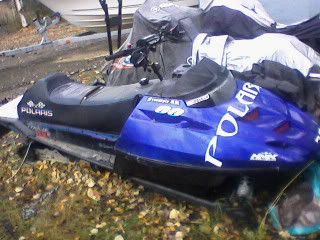 fired it up for the first time this summer, only took a couple pulls. cant wait for snow!