Discussion Starter
·
#1
·
I had plans to ride this weekend for a while, just wasn't sure where it was going to be. Ended up riding the Isabella area with a guy from work and then with Greasmonkey and his son.
We left the cities about 5am or so, arrived at the Knotted Pine Inn around 10:15 or so I think. We unloaded and mounted the sleds.
There hasn't been much sledding activity in the area yet (other than Riley going up there last weekend), so there was hardly any tracks anywhere. It was amazing. The wetland and marsh areas still had some water and slush under the snow, but nothing that would stop a sled. No grooming yet though for the trails that cross the marsh areas until the water freezes up more solid.
We took off heading east down the tomahawk and it was pretty nice. Ok, VERY nice. There was evidence that one other sled had been down that way, but there had been a little fresh snow since then.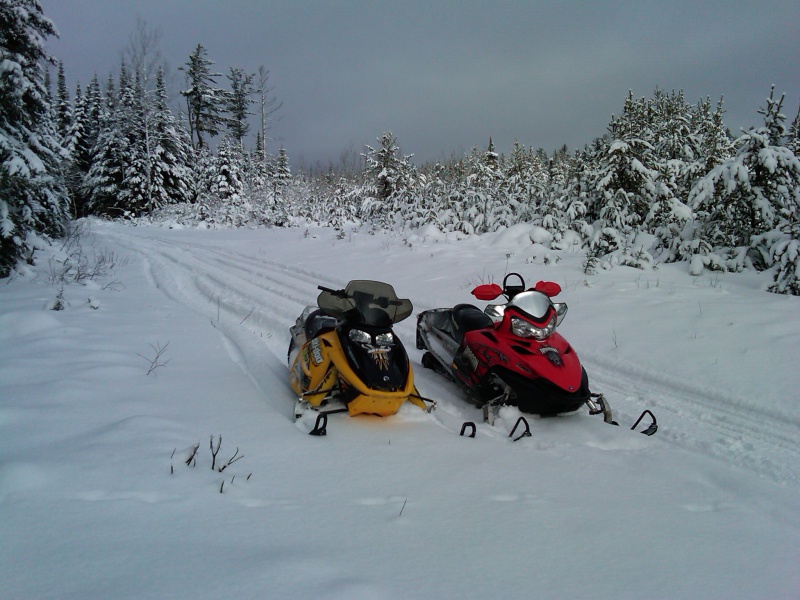 We got a little farther and got to a marsh area that looked pretty wet and it was early in the ride. So we backtracked and went up to a forest road that intersected. Turns out that road was plowed. So we backtracked back to the hwy 1 crossing, and ditchbanged down hwy 1. Then we took a short forest road east that intersected with the Timber Wolf trail.
The timber wolf trail was absolutely epic. We were the first ones down it. Only way it would have been cooler is if the snow was over-the-hood type.
We stopped at the end of the timberwolf where it intersects the tomahawk and took this pic: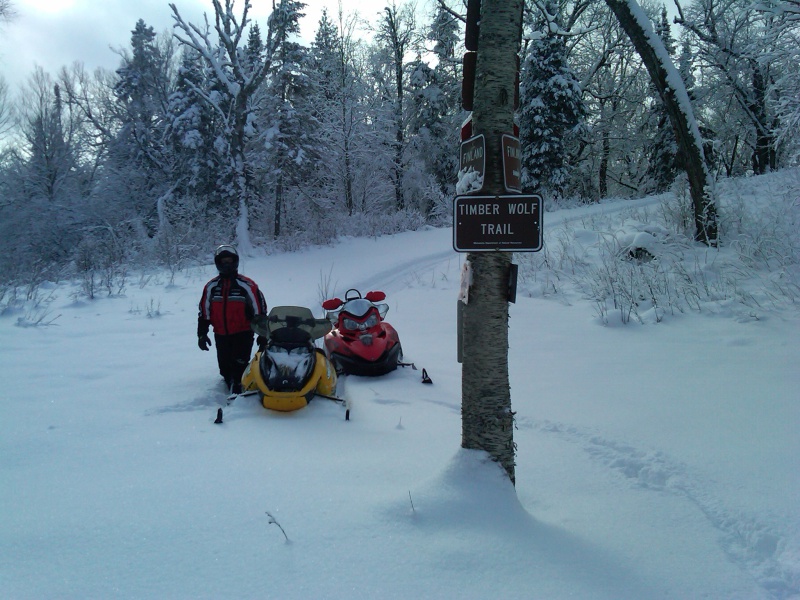 We headed east on the Tomahawk again and it was pretty great. First tracks down this one too. Only downside was there was a 4 fallen trees that we had to deal with. We didn't have a saw with unfortunately. For 3 of them we build a little snow ramp and rode up and over the trunk. The 4th we were able to go around: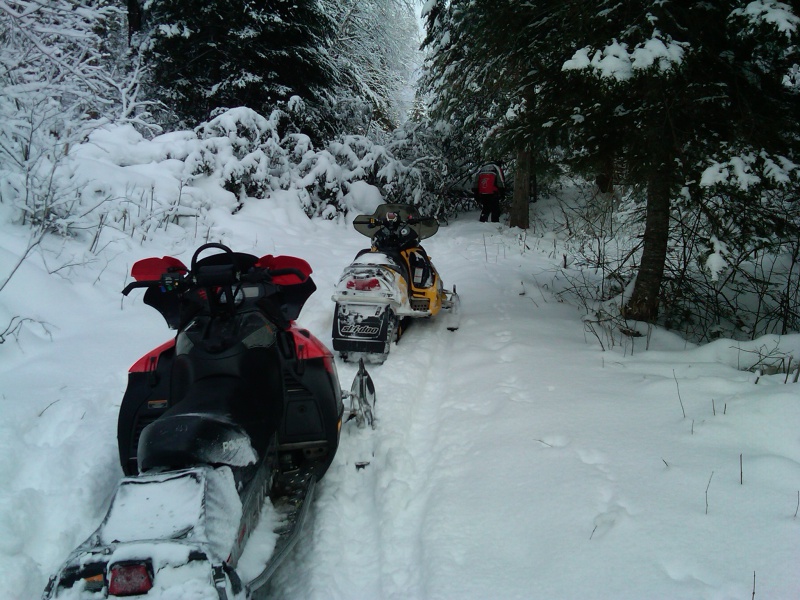 We then got on a fire road that led us to the trestle. We saw Riley's tracks on this road, and it had snowed a few inches at least since then. We ate some lunch at the trestle. Not sure who's RMK that was next to my sled.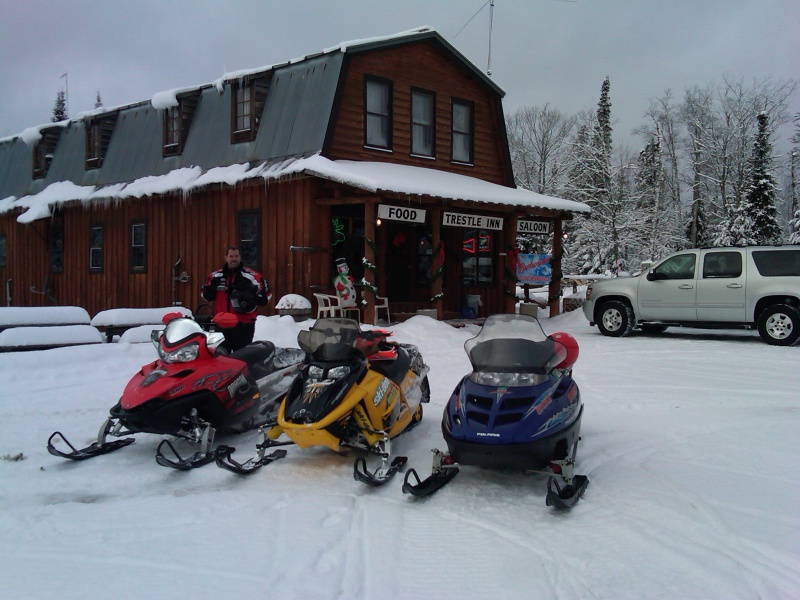 Another pic at the Trestle.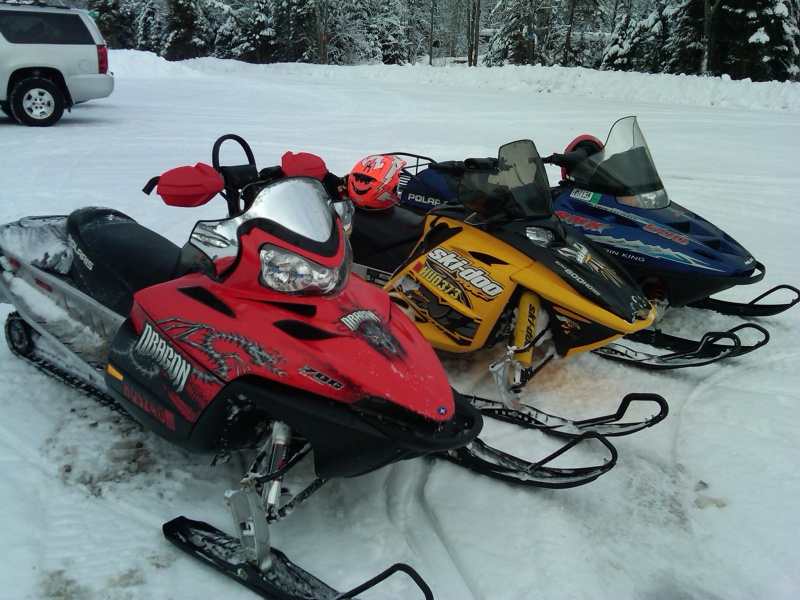 No more pics for Saturday. We basically took the same route back.
Sunday we took off down the Yukon where Grease and his son had been trail clearing the last two days. They had cleared about 14 miles. The next 10 or so miles to the shelter on the Yukon were awesome again. Breaking trail, we were the first sleds down there.
This pic could be a Ski-Doo ad!
4 sleds breaking in the trail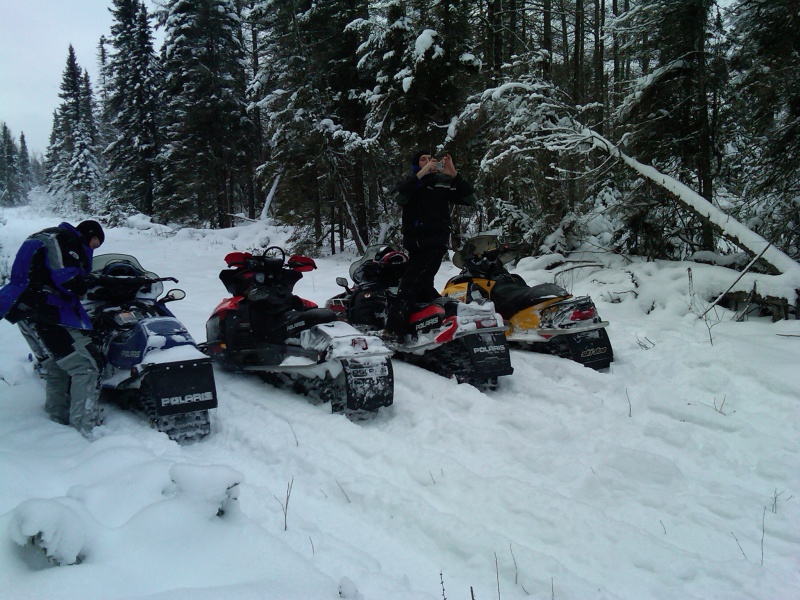 At the yukon Shelter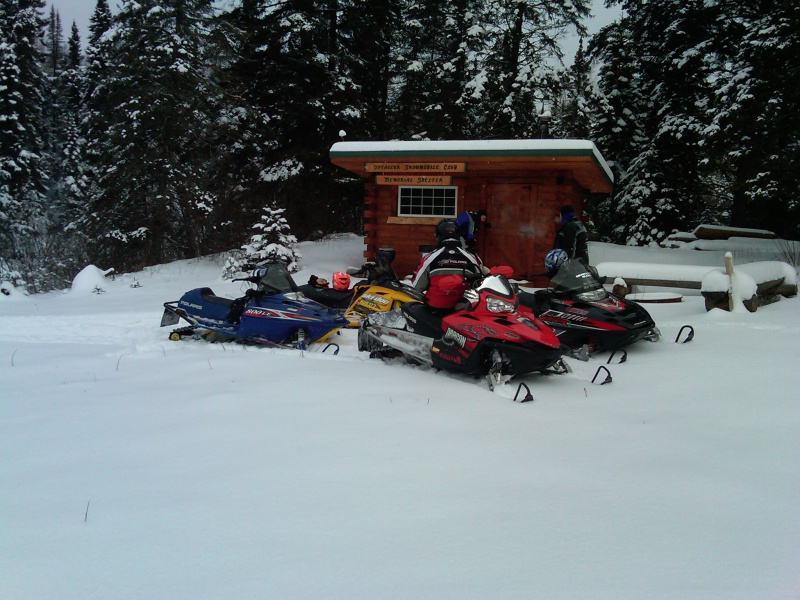 After that we turned around, headed back to the KPI, and headed home.
New sled report:
Some of you know that I picked up an 07 Blizzard 600HO SDI this fall. I am pretty impressed with it. It ran almost flawlessly, got decent mileage (as decent as you can get breaking trail), and was huge peace of mind not having to worry about blowing up a motor. The only issue I had was that on Sat it would die sometimes when I tried to go into reverse when it was hot. It also sometimes fired but wouldn't start unless I held the throttle open when it was hot. Otherwise it ran great. The sled needs about 1-2" higher bars. It also needs to be geared down. I hit 104 on the speedo (95.5 on gps). I will probably 136 it or at least get a different track. The 1.25" ripsaw was awesome on the hardpack, but I did a total of about 20 miles of hardpack this weekend. I was not impressed with the ripsaw in the semi-soft untracked stuff though. My 2" snox paddle on the race sled worked quite a bit better in it. Finally I might switch up the clutching a bit too. I was missing the snappiness of the race sled, and would like to get this sled close. Couldn't really judge the suspension too much, spent most of the weekend in fluffy snow and didn't do any jumping.
All in all a great weekend!